Here are five examples of notable emerging tech for getting back to business in the COVID era.
Distancing technologies are one of those things you never knew you couldn't live without. Once upon a time the iPhone changed our way of life. Now, it's a global pandemic. From enhanced hygiene to accelerated augmented reality to distancing apps, emerging tech is ramping up to create a new normal for global society.
Amazon Gives Workers Their Space
Amazon developed the Distance Assistant, an artificial intelligence system that monitors social distancing in select Amazon warehouses.
With a camera, laptop, and monitor, the device uses machine learning and depth sensors to measure and display distance between workers in real time with augmented-reality circles. Green circles indicate they are maintaining the recommended six foot distance, and red ones mean they are not. The circles provide immediate visual feedback which encourages employees to maintain an appropriate distance from one another.
Amazon is deploying hundreds of these devices and is working to open-source the tech so other businesses can use it.

Robots Sanitize Airports, Hospitals, and Warehouses
Factories, warehouses, airports, and hospitals are turning to robotics to provide mobile sanitation solutions, protecting employees and visitors from viruses and germs including the novel coronavirus.
The Breezy One, developed by cloud and industrial robot developers Fetch Robotics and Build with Robots (BWR), is one such robot which sprays chemical disinfectants at Albuquerque's airport facilities. Using cloud software, the robot can be controlled remotely and paths and schedules can be customized by the operator.
Other robot cleaners emit an ultraviolet light. Whole Foods and Bon Secours St. Francis Health System Hospitals have used these cleaners to offer an extra layer of protection. While costly, these robots can clean a supermarket aisle or hospital room in a matter of minutes.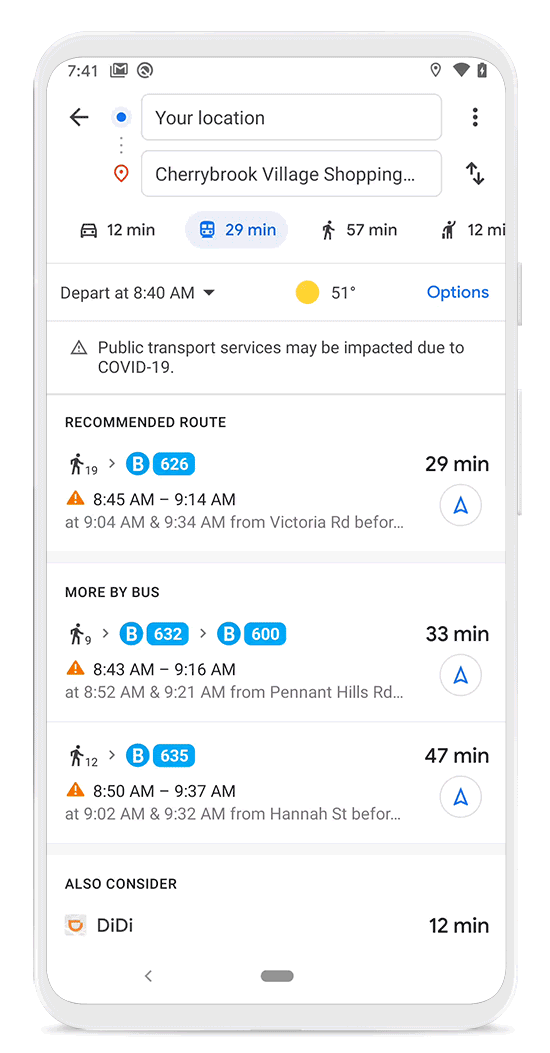 Google Maps Go Remote
Google has released quite a few updates to Google Maps. Newly integrated features allow users to get local COVID restriction alerts, find health facilities, as well as view updated crowd reports at various locales. One blog post details some of these new features.
Drivers using Google Maps to navigate in supported locations will receive alerts about COVID checkpoints and restrictions along their route. Users navigating to medical facilities or testing centers may also receive alerts on facility guidelines and testing eligibility to decrease crowds and chaos.

Struggling Gyms Keep Up The Pace
EGYM, a Munich-based company, has created Immunity Plus, a program combining software and hardware products to satisfy gym members and owner needs.
Gym members may use the app to interact with one another in a digital space while accessing virtual workout routines at their local gym to help build their immune system and boost overall wellness.
The app also has the capacity to sync to gym equipment, loading your favorite workout routine and personalized setting on the equipment and sending post-workout data back to your device, without having to touch the equipment.
Owners are able to use the app to provide remote customer care, and utilize slot booking features to control gym capacity, in accordance with physical distancing guidelines.
The Real Estate Industry adopts VR for Open House Tours
With real estate open houses becoming difficult and nearly impossible to have during stay-at-home orders, agencies have found ways around in-person tours with digitization using VR technologies.
Notably, an online Chinese real estate brokerage service, Beike Zhaofang, ramped up VR efforts after shifting its focus from in-person to online sales after the start of the pandemic in China. Beike added over 3.3 million properties on its VR platform to be viewed by those house hunting, reaching an average of almost 350,000 remote house viewings a day. According to a company report, over 1000 clients made property purchases after a virtual open house.
VR property inspections are also being streamed in Australia over a 5G connection, allowing users to view rental properties and interact with real estate agents in real time.
–––––
And there you go! Just like any other time of rapid change, businesses who adapt have an opportunity to succeed. This is just a small peek at how companies are inventing the future in response to an extremely challenging time.
Any way you slice it, remote work in some form or another is here to stay and social distance is very much a necessity.
How is your company working to transcend limitations and use technology to elevate innovation and make our lives livable?